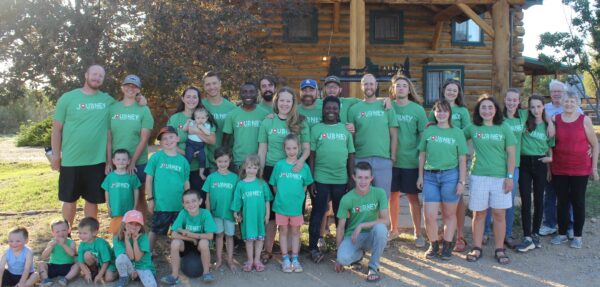 Summer Counselors
| | | | |
| --- | --- | --- | --- |
| | | | |
| Lydia Sandberg – Lydia is from a small town in Indiana and this will be her second year at CBX counseling.  She loves to draw, paint, or any sort of art.  Please pray for her to love her campers well this summer! | Addie Miller – Addie has spent all but 9 months of her life at CBX.  She has served as support staff, photographer, snack shop operator and now takes her turn as a counselor.  She enjoys music, reading, and getting coffee with friends. | Lydia Thurman – Lydia is originally from New York, but has been living near Denver for the past 12 years. She is in her last year at Lincoln Memorial University studying Conservation Biology and playing college volleyball. She is excited to be a camp counselor this summer and spend time with kids! | Ashley Chilton – Ashley is from Texas and this will be her first time working as a camp counselor at Cross Bar X.  She considers herself a crazy cat lady in training, who when not reading or watching anime can be found writing with a cup of coffee in hand. |
| | | | |
| Aidan Shaffer – Aidan is a lifelong Durangatang, but now calls Southern California home as he studies psychology at Biola University.  In his spare time he loves performing music and connecting with people through it. | John "Scar" Scarboro – Scar returns to CBX to serve for the 7th summer!  Previous stints at CBX have included counseling, program directing, and general do it all guy!  Hiking, cycling, and all things outdoors are my hobbies.  Please keep me in your prayers this year! | Seth Posey – Seth returns to CBX after a long hiatus to serve as a counselor for Boys Falcon.  Seth and Shannon live in Albuquerque and are expecting their first child this fall! | Kyle Anderson – Kyle returns for his 4th summer at CBX.  Kyle will be serving during Boys Eagle as a counselor.  Kyle enjoys cars, music, and sharing Jesus with others. |
Support Staff
Elias Miller – Eli is 15 years old and is serving as a Ranch Hand this summer.  He likes to read, bike, and work with forging metal.  You can pray for his strength and clarity of mind this summer!
Allan Miller – Allan is 15 years old and serving as a ranch hand.  He likes to run, play board games, and guitar.  Please pray that he can stay focused on glorifying God through his work at CBX.
Will & Diane – Will and
Diane joined us for Work Week in May and decided to spend the summer with us as volunteer servers. In August they will be married 50 years. They enjoy studying the Bible, quilting, and woodworking. Pray that they are well and serve the Lord as he leads them this summer.
Teddy Monsour- Teddy is 16 and going into his senior year of high school.  He is serving as a ranch hand this summer.  Some of his favorite things to do include reading, video production, sports, and listening to music.  Please pray that he continues to seek the Lord this summer.
Cora – Cora is 13 and is serving as a support staff this summer. She runs the trading post and snack shack and washes dishes and serves. She enjoys baking, learning to play the banjo, and reading. Pray that she serves with a cheerful heart unto the Lord.
Ben Davis –

Ben

is from a small town called Glenville North Carolina.  He has a deep passion for camp ministry and has worked for 5 years in this field. He moved out to Colorado back in 2018 to work with the COLS program and quickly fell in love with Cross Bar X.  He has just recently moved back to Colorado in January after returning to NC to work at Truett Conference Center & Camp. He is the assistant program director this year, and will be leading the Condor expedition in July. He will also be counseling for a few of our camps this summer. He is looking forward to seeing God work this summer!